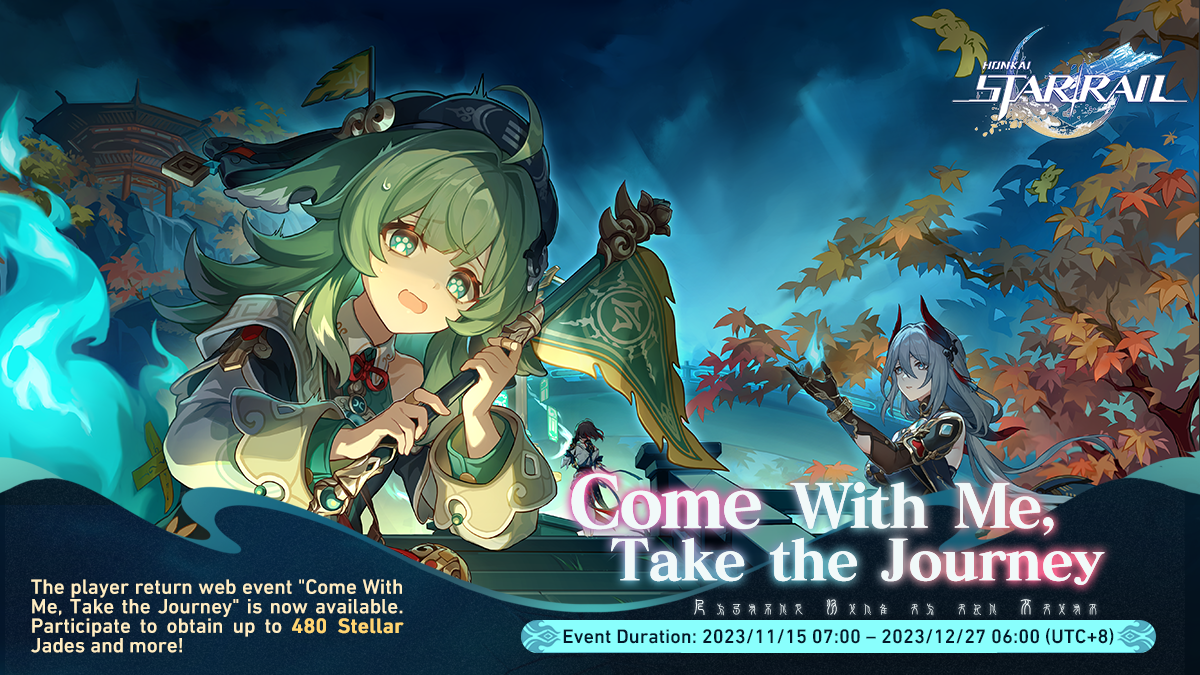 The player return web event "Come With Me, Take the Journey" is now available. Participate to obtain up to 480 Stellar Jades and more!
Dear Trailblazer, the Crew of the Express is waiting for you. Take the journey and embark on your adventure across the cosmos once more! You can earn a max of 480 Stellar Jades!
■ Event Duration
2023/11/15 07:00 – 2023/12/27 06:00 (UTC+8)
■ Event Introduction
1. During the event, Trailblazers can obtain Stellar Jades and other rewards by inviting returning Trailblazers.
2. Active Trailblazers can share their exclusive invitation code to invite other Trailblazers who meet the requirements to return and participate in web missions, and obtain Stellar Jade rewards and draw tickets.
3. After logging into the game, returning Trailblazers can also invite other Trailblazers who meet the requirements and participate in the web missions.
■ Event Rewards
1. Invite 5 returning Trailblazers back and complete all web missions to obtain Stellar Jade ×480 and credit ×50,000 in total
2. Trailblazers will get Stellar Jade ×30 upon sharing their invitation code for the first time.
■ Returning Trailblazers
1. Trailblaze Level ≥ 10, and completed the Trailblaze Mission "Jarilo-VI — Long Wait for the Blade's Edge";
2. Have not logged in for 14 consecutive days or more;
3. If the "Starlit Homecoming" event is currently active for an account, only those Trailblazers who activated the event after 2023/11/15 07:00 (UTC+8) will be considered a returning Trailblazer.
■ Attention
1. Trailblazers must have completed the Trailblaze Mission "The Blue — A Moment of Peace" and have activated the mailbox function.
2. In-game item rewards will be distributed via the in-game mailbox. The mail will be valid for 30 days. Please collect it in time.
3. If you have any questions regarding this web event, please contact us via Customer Services.